7
min read
The market for residential architects is in high demand, and so is the need to stay at the top of ever-evolving trends in the digital marketing strategies of architects. From London to Glasgow, there are thousands of online searches looking for architectural solutions. There's, however, a need for architecture firms to redesign their marketing strategies to boost their business.
The use of digital marketing has been on the rise for a long time now, and architects are able to make huge profits with new marketing techniques. Do you want to know the secret behind successful marketing for architects?
Marketing for Architecture Firms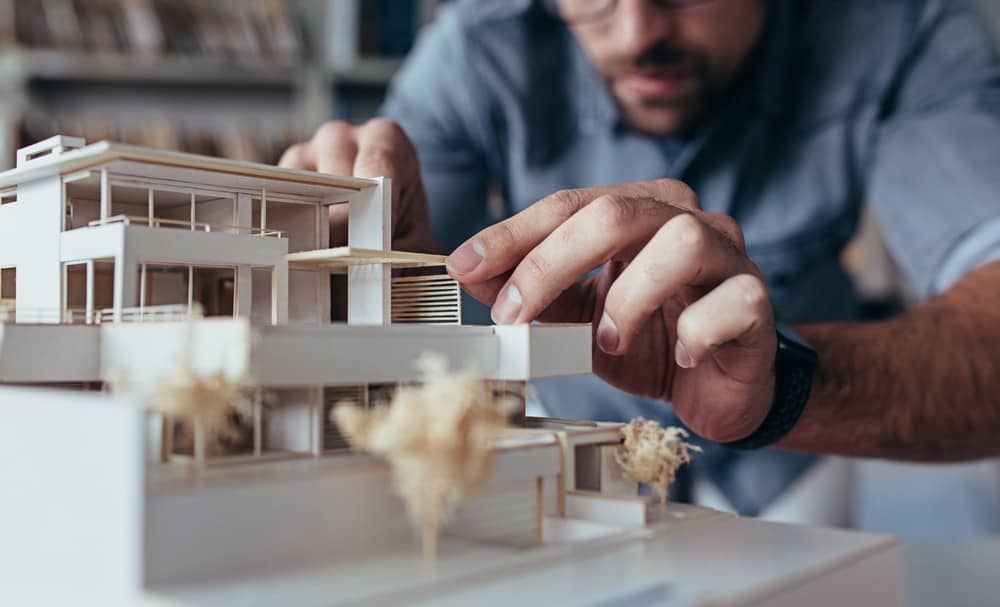 An effective marketing framework is essential for residential architects to generate positive business outcomes. And traditional marketing techniques are not on the list of options.
So what is the solution? Digital marketing.
The internet is the primary medium for businesses to connect with their audience. Digital marketing for architecture firms has become a revolutionary technique to promote their firms to an audience that is actually looking for their services. Moreover, Digital marketing has also increased the point of interaction between customers and architecture firms.
Social media marketing, Pay Per Click advertising, and search engine optimisation are only a few popular Digital Marketing techniques to mention. There are several other ways residential architects can follow to use the power of the various online mediums to market their services.
Discover the top ten marketing tips for residential architects that are proven to be highly rewarding in generating more business.
1. Understand Your Target Audience
The key challenge to promoting residential architecture firms is to precisely target a very specific audience looking or interested in similar services as you offer.
It is, therefore, important for architecture firms to understand their audience and create a strong backbone for their marketing campaigns. A good way to complete this step is to deeply understand what you are offering and to whom. Do you have a luxury home designing business or expertise in specific architectural structures?
Once you find the answer to such questions and identify the recipients of your services, you can take a definite approach to promote your business through digital marketing.
2. Craft Buyer's Journey – Create a Lead Funnel
A lead funnel is a systematic approach residential architects or any business can use to generate leads. It is a purposely crafted buyer's journey that includes different stages of educating or making them aware of your services until they make a final decision.
The different stages of a lead funnel are –
Awareness

Interest

Decision

Action
To attract new clients, it is crucial to provide them with high-quality content at every stage of the funnel so that you incline them towards a positive decision of hiring you in the end. Use clear calls to action and capture their emails to move ahead in the funnel and finally convert them into paying customers.
3. Competitor Analysis
Monitoring the competitors' marketing strategies can help you to a great extent in defining great digital marketing strategies for your residential architecture firm. Make a list of your closest competitors, analyse their marketing techniques, and try to incorporate the same into your marketing plan.
It will help you stay in the competition and take over them after some time by adding more impactful marketing techniques to your strategy.
4. Build a High-Quality Website
The competition is tough, and grabbing users' attention is more difficult than ever. According to experts, when a user lands on your website, you only have 15 seconds to catch their attention. And you can definitely not achieve it with a poorly designed website.
Therefore residential architects need to build a high-quality website with easy navigation features and premium-looking themes. Design a website that reflects the theme of your business and conveys your services to the audience in the best possible way.
5. Don't Forget About Search Engine Optimisation(SEO)
An extremely well-designed website is useless unless it appears at the top of online search results. Search Engine Optimisation is the technique to improve the findability of websites on the internet. There are different types of SEO – On Page SEO, Off Page SEO, and Technical SEO- all serve different purposes that affect the ranking of websites.
So when you hire an expert website design and development expert, don't forget to hire a Digital Marketing Agency for the Search Engine Optimisation of your website. It is the only way you can take your website higher in online searches other than paid marketing.
6. Be an Active User of Social Media
Millions of users use various social media channels like Instagram, Facebook, Twitter, Pinterest, etc. The massive user base and high average time spent by users on these channels make it really important for residential architects to focus on social media marketing.
You can use different platforms to showcase your work and services through high-quality graphics and post other visual content to engage your audience.
7. Focus on Content Marketing
Successful content marketing involves producing and promoting high-quality content relevant to your business through your website, blogs, and other channels. It can also include ebooks, articles, webinars, etc.
When we talk about content marketing, it refers to using techniques to create educational content for the audience and sharing it with them. It is important to focus on content marketing to communicate your services to the target audience, raise brand awareness and authority, and improve search engine rankings.
Content marketing is a proven technique to attract more clients as it educates the users while leading them to the final step of decision-making. Experts are constantly emphasizing the need to develop content-rich digital marketing strategies for booming businesses.
8. Email Marketing is Still Effective
There has been some misconception in the market regarding the effectiveness of Email Marketing. The technique has existed for a long time now and is highly effective, and other techniques can't override its benefits.
Sending frequent emails to your clients with informational or promotional content keeps your engagement intact with them. The benefits also include better nurturing of leads and relationship building.
Email marketing is an impressive marketing technique that gives a high return on investment, so high that you can expect a return of $42 on an investment of $1. But it is not easy to reach people's inboxes and force them to open your email. Getting a professional email marketing service can solve the complexity of the technique and help you enjoy the best results.
9. Automation is a MUST for Architects Online
Using Artificial Intelligence, marketing automation eliminates the hard work of repeating the same tasks. Residential architects can use different Customer Relationship Management(CRM) tools, appointment schedulers, social media post schedulers, and more to streamline the working of their firm and increase their effectiveness.
A CRM tool is a good option to begin. You can use such tools to send targeted messages and emails to the users frequently or send emails triggered by their actions, like sending newsletters once they subscribe or sign up for it.
10. Activate Advertising on key Platforms – Google, Instagram, Pinterest
Networking is highly essential for residential architecture firms to raise brand recognition and value, and staying within the radius of other professionals in the industry can also bring your a significant number of clients through referrals.
Residential architects can use social media platforms like LinkedIn, Google, Instagram, and Pinterest to create an active network with other experts in the industry. Be selective and strategize your profile so that it resonates with the nature of the brand image you want to reflect.
You can engage the audience on various social channels and capitalise on the interest of the users by building a great customer-company bond with them.
Bonus Tip – Hire Digital Marketing Experts, Quechua Digital Advisory
It shouldn't be a surprise for you, but following all the tips and effectively using the various digital marketing strategies is not an easy task that anyone from your residential architecture company can do. You need an expert to handle the complexities of Digital Marketing for your Residential Architecture business.
Quechua Digital Advisory is a top-level Digital Marketing Agency in London, UK, and is working with several years of experience and an impressive track record of completed projects. Our digital marketing services for residential architects are not restricted to social media or SEO, but there is a long list of highly rewarding services that we offer.
From SEO, Conversion Rate Optimisation, and Marketing Automation, to everything that is a part of digital marketing and can be profitable for your residential architecture business, we are the best-trained team of experts that knows how to produce outstanding results from marketing campaigns for architects.
Call us now for the most advanced Digital Marketing Services for Residential Architects.